Cosmetic Dentistry
We provides following facilities with great satisfaction :
Tooth Whitening
Teeth whitening is one of the easiest ways to enhance your looks. Whitening techniques make it possible to have a dazzling white smile in a simple, affordable and safe way.
Whitening can be carried out at home, in dental clinic or by using a combination of these two techniques.
In-Office Whitening

Significant color change in a short period of time is the major benefit of in-office whitening. Depending upon the desired shade of whitening and teeth with severe staining may be advised to return for one or more additional bleaching sessions, or may be asked to continue with a home-use whitening system.

Take-Home Whitening Kits

Take-home kits incorporate an easy-to-use lower-concentration peroxide gel that remains on the teeth for an hour or longer (sometimes overnight). The gel is applied to the teeth using custom-made bleaching trays.

Combination whitening

For the best results, we recommend a combination of in office and home whitening. Highly coloured foods and nicotine staining may lessen the effects of whitening and regular visits to us are advised to maintain the brightness of your smile.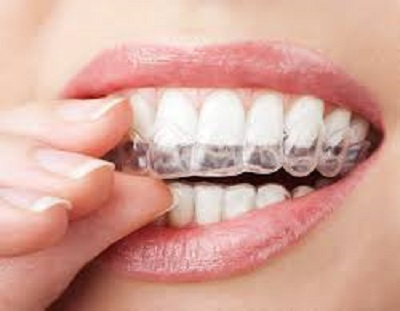 SMILE DESIGN
The importance of your smile cannot be overstated – it's the first thing that many people will notice about you, can leave a lasting impression on strangers and friends alike, and plays a key role in your confidence and self-esteem. Improving your smile is one of the greatest investments that you can make. The team at our practice can design a smile makeover that will transform your appearance – and your quality of life We provide with varieties of treatment options to enhance your beautiful smile, which ofcourse can be on you to choose from according to your need and convenience .
Smile design with composite(tooth coloured) filling
Smile design with veneers or crowns
Diastema closure with composite filling, veneers , crowns or braces.
VENEERS
Veneers are thin, custom-built shells designed to coat the front side of teeth. They are "cemented" to the front surface of teeth to improve their cosmetic appearance, transforms crooked, stained, damaged or badly worn teeth into a brand new, straight, white smile. Veneers can be : Direct veneer and indirect veneer Direct Veneer Tooth colored filling materials can be directly made on your teeth by your dentist during your dental appointment; these are also known as composite bonding. And this is the inexpensive yet effective way to correct small gaps, crack, and chips, and to treat discoloration of teeth.
Indirect veneers
Indirect veneers are thin layers of porcelain or composite materials that are placed on the surface of the teeth. These types of veneers can only be created indirectly at a dental laboratory.